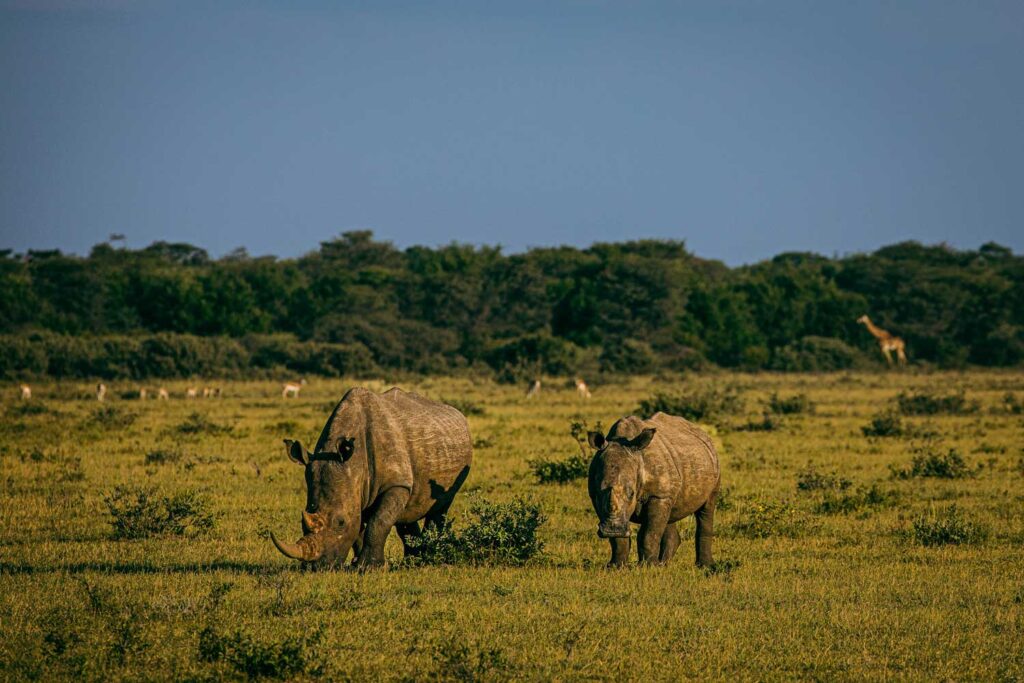 Khama Rhino Sanctuary
The Khama Rhino Sanctuary is a community-based wildlife project established in 1992 near Serowe. Covering approximately 8585 hectares of Kalahari Sandveld, its primary purpose is to provide a safe haven for the endangered white and black rhinoceros, protect them from poaching and help restore their population in Botswana.
Wildlife: While the sanctuary is primarily focused on the conservation of both white and black rhinoceroses, and is home to plenty of other wildlife including zebras, giraffes, leopards, ostriches, African wild cats, hyenas, and various species of antelope. The sanctuary is also a bird lover's paradise with over 230 species of birds.
Facilities: Khama Rhino offers rustic but well maintained facilities. There is a Visitor's Centre at the front gate with a gift shop which sells basic conveniences such as firewood, charcoal, fire-lighters and soft-drinks. There is restaurant and bar with a swimming pool close to the front gate (well sign posted). The restaurant isn't exactly gourmet but does offer standard cafe-type snacks. Not a bad option for a quick sandwich before exploring the reserve.
Activities: Game drives can be booked at the reception at front gate, and campers can arrange to be picked up from their designated campsite. But self drive is what we enjoy on the relatively well maintained and sign-posted tracks.
Camping: The sanctuary has 22 camping sites, including ones suitable for large groups. Each site features a large Mokongwa tree for shade, a fireplace, a braai stand with a grill, and a tap with a birdbath. The sites are serviced by two communal ablution blocks which are well maintained albeit rather rustic. There has always been plenty of hot water when we have been there. Note that the campsites don't have power points.
Camp Site Costs:
| Description | Citizen (Pula) | Non-Citizen (Pula) | Resident (Pula) |
| --- | --- | --- | --- |
| Children (6-12 years) | P44.05 | P60.45 | P53.35 |
| Adults | P88.15 | P120.90 | P106.70 |
Note: The currency used is Botswana Pula (P). Prices are subject to change; please confirm with the sanctuary for the most current rates.
Chalet Facilities:
The sanctuary houses eight unique chalets, each offering various amenities. All chalets come equipped with bedding & towels, a braai facility, and a bar fridge (except for the A-frame chalet). Please note that basic cooking utensils are not provided.
| Chalet | Description | Citizen (Pula) | Non-Citizen (Pula) | Resident (Pula) |
| --- | --- | --- | --- | --- |
| A & B | Accommodates two people, one double bed each | P775.90 | P775.90 | P775.90 |
| C & D | Located at Makongwa Camp, accommodates four people with two rooms and two beds in each room | P890.50 | P890.50 | P890.50 |
| F & G | Next to the restaurant area, each chalet has two rooms and two beds in each room | P890.50 | P890.50 | P890.50 |
| A-Frame | Situated on the edge of Serwe pan, a two-story chalet for up to six people. No electricity but lantern lamps provided | P1034.55 | P1034.55 | P1034.55 |